Peekaboo Online Slot is a three-reel, five-line and five-coin slot game with a wild symbol (Boo!). The maximum pay-outs reach an average of 6,000 coins. The game was originally created and programmed by the Microgaming company. The game incorporates a lovely combination of ghostly tunes, cartoon-like graphics and provides a rather enjoyable overall experience.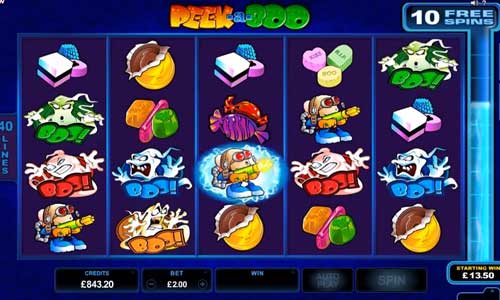 One of the unique features of the game is that a player can win a line, even if it is positioned diagonally among the symbols. It is also possible to hit two lines at once, by forming a cross of bars for example.
Symbols
The Boo symbol is this game's wild card. Whenever it appears in the slot, the game will provide you with a number of tasty treats. Hit all the Boo!'s at once and you will win the jackpot; usually worth between 10,000 and 30,000 EUR. The Boo! is wild for all other symbols! Other symbols present in the current version of the game are the usuals: the Single, Double and Triple Bars. They will reward you greatly, although not as greatly as the wild symbol Boo! Click here to play this game now.
The Any Bar option allows you to win from any of the bar symbols. If the slots stop at any three bar symbols, you shall be rewarded with five coins. The Single Bar gives you 10 coins, the Double Bar 40 and the Triple Bar – 100 coins.
A triple Aviator in your slots will hand you 300 coins, while the same amount of the Ghost – 200 coins!
The Jackpot
As already said, the jackpot is entirely the Boo!'s work. Depending on where your three Boo! symbols are positioned, you earn different jackpots. As the game is originally from the US, here are the also original jackpot specifications:
3 Boo! symbols on line three equal 15,000 USD 3 Boo! symbols on line four equal 20,000 USD 3 Boo! symbols on line five equal 30,000 USD
Line three is the bottom horizontal line. Line four is the diagonal one which flows from the top left corner to the bottom right one. The fifth line is the opposite diagonal one. Play the Peekaboo online slot and see if you can get the Boo without being scared!